It's time for the October giveaway of a piece of my For Love of a Dog jewelry. Enter now and you could be the lucky winner of this personalized Rainbow Bridge pet memorial bracelet. Perfect for dog or cat lovers.
The legend of the Rainbow Bridge gives me some comfort when I'm reminiscing about pets I've lost. I like to think about the big greeting committee that is waiting for me and the reunion we'll have in spirit.
The story of the Rainbow Bridge tells of a green meadow located this side of Heaven. According to the story, when a pet dies, it goes to the meadow, having been restored to perfect health and free of any injuries. The pet runs and plays all day with the others, there is always fresh food and water, and the sun is always shining. However, it is said that while the pet is at peace and happy, they miss their owner who had to be left behind on Earth.





When their owner dies, they come across the Rainbow Bridge. It is at that moment that their pet stops what they are doing and sniffs at the air and looks into the distance where they see their beloved owner. Excited, they run as fast as they can until they are in their owner's arms, licking their face in joy while their owner looks into the eyes of their pet who was absent on Earth, but never absent in their heart. Then side by side, they cross the Rainbow Bridge together into Heaven, never again to be separated.
Whether you believe in the legend of the Rainbow Bridge or not, remember and honor your special furry friend who is no longer with you.
I used a series of brilliantly faceted fat crystal rondelles in rainbow
colors for this bracelet. Each bead is accented with silver filigree bead
caps and hand wire wrapped with silver jeweler's wire.
A silver double sided heart with wings charm hangs at the clasp.
The clasp is a sweet double sided paw print lobster claw.
One of these charms will be personalized and added for the winner.
Hand stamped with the name or nickname of the beloved cat or dog.
Barking good jewelry for the dog or cat lover and another fun bracelet from my Rainbow Bridge pet memorial jewelry collection at For Love of a Dog. Don't like to wear bracelets? Enter to snag this to give as a gift to a special dog or cat loving friend!
Giveaway Rules:
1. There will be one winner (chosen at random by Rafflecopter) and they will receive this Copper Dog Bone Bracelet from For Love of a Dog Jewelry.



2.

This giveaway is open worldwide. However, those of you who live outside the US must agree to be responsible for all Customs/VAT fees.





4. The winner will be announced on October 31 here on this blog, plus the winner will receive an email from me that morning. If I do not receive a response to that email within 48 hours, an alternate winner will be chosen.
a Rafflecopter giveaway
Rafflecopter misbehaving? Sorry about that. It happens sometimes. Make sure you're looking at this individual blog post and then try refreshing the page. OR click on the linked phrase "a Rafflecopter giveaway" (just above this paragraph) and you'll be taken to the entry form.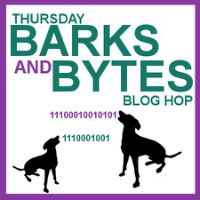 We're participating in the Thursday's Barks and Bytes Blog hop hosted by 2 Brown Dogs and Heart Like a Dog. The Barks and Bytes hop is for anything at all and all bloggers are welcome. You don't have to be a dog blog to join.
We're also joining the Fido's Freebie Friday blog hop hosted by Dog Tipper, All Things Dog Blog, Doggies and Stuff and To Dog With Love. If you have a giveaway on your blog, join us!