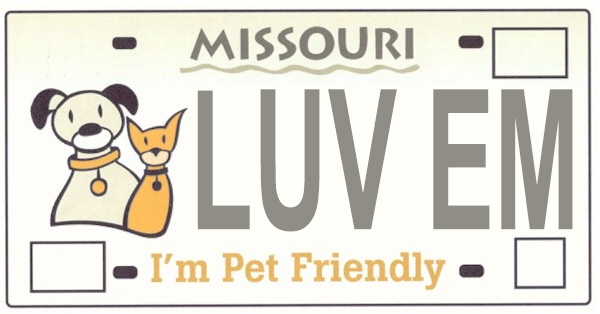 Live in Missouri and consider yourself an animal lover? How about a "pet friendly" license plate for your vehicle. This specialty plate is just $25 with $20 from the sale of each pet friendly license plate going into a fund that pays for spay and neuter services.
It's a really nice looking four color plate with original art work by 501creative. You can order yours here at the MoSHA web site.
In Missouri, more than 150,000 unwanted dogs and cats end up in shelters and animal-control facilities annually. Fewer than half of them are placed in new homes. Untold thousands of dogs and cats roam our communities as unwanted strays. Most strays die of hunger, dehydration, exposure or as the result of disease, abuse or serious injury. Animal advocates, for decades, have promoted sterilization as one key way to reduce the number of unwanted dogs and cats and put an end to the needless suffering and death of countless companion animals.
Money raised through the sales of these license place is allocated through a grant process.

To qualify for a grant, the recipient must be a 501-c-3, nonprofit agency or municipal animal-control agency that offers spay and neuter services for dogs and cats in Missouri. Grant applications are reviewed by a three member panel and administerd by the Missouri Department of Agriculture.
The 2010 grant recipients (from 2009 donations) include: OPSPOT and Spay Neuter in Kansas City; the Humane Society of Ray County in Richmond, MO; Seven Bells Sanctuary in Cole Camp; Friends of Animals Humane Society in Eldon; and the Humane Society of St Joseph in Buchanan County.
For more information contact The Missouri State Humane Assciation who adminsters the program.