Rudy is home now, but still anxious from his surgery.
Barks
Even if you cop of feel of your dog every day, life can still throw you a curve ball.
If you follow me or For Love of a Dog on Facebook, or read my blog earlier this week, you know that Rudy had some surgery Monday morning.
When my dog Benji was diagnosed with cancer so many years ago, I became obsessed with "feeling up" and examining my dogs daily for lumps and bumps. After all, early detection can make the difference between life or death.
Sometimes that's not even enough. Last week, on Wednesday, there was no sign of anything worrisome on Rudy's body. Friday night he had a lump the size of a golf ball on one side of his penis.
A call to the vet on Saturday morning found my vet overwhelmed with emergence surgeries. After some conversation, we all assumed this was probably a hernia. Rudy was scheduled for an 8 am appointment on Monday. He fasted in preparation for tests.
Good thing he fasted.
Our vet took one good feel and said: Lipoma. Normally, he would aspirate and wait for lab work to decide on treatment. Due to the location and size, he said surgery. And since Rudy had fasted, he agreed to do the surgery immediately.
The very good news is that the tumor was a Lipoma - a totally encapsulated fatty tumor. Rudy should be a-okay. Truthfully, I don't think I would have been so freaked out if this thing hadn't happened almost overnight. But it did. And I was.
The outcome could have been very different. If you don't already check your dog for unusual lumps or bumps, you should. Make it part of your daily routine. Your dog will love the handy-hands massage and it will give you some peace of mind.
The dreaded cone - a necessary evil overnight. You can see how thrilled Rudy is about this development. Not to mention Jeffie won't go near him when he's wearing it.
Rudy is doing very well in his recovery. He hates the cone, but it is a necessary evil for overnight. Poor Rudy - his brother, Jeffie, is afraid of it. He even barked once last night and made Rudy feel even worse. Rosie isn't afraid of the cone, but Rudy is disappointed that his sister can't help him get the dog-gone thing OFF!
Bytes
I don't often share personal news and information on the internet. However, when I got what was a sucker punch of a shock, I did include it in my Monday Mischief blog post and I shared my situation on Facebook.
While I waited for my vet to call with a surgery update, I read the responses with tears in my eyes. Happy tears because of all the caring and love from my friends. Wow. It made some very stressful hours so much easier to bear.
Thank you so much for the support.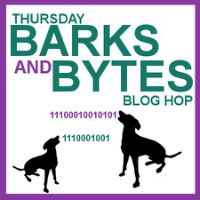 We're participating in the Thursday's Barks and Bytes Blog hop hosted by 2 Brown Dogs and Heart Like a Dog. The Barks and Bytes hop is for anything at all and all bloggers are welcome. You don't have to be a dog blog to join.